CONTACT US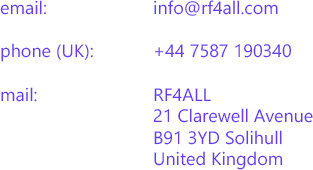 ABOUT US
We are a family run business located in the heart of England. Our mission is to make other people as passionate about RF electronics as we are.

We develop high quality RF products at the lowest cost, enabling people to test, measure and build RF electronics for a reasonable price.

We like wireless. Wherever possible we control our boards via WiFi or hotspot connection using a smartphone, tablet or PC. All our test and measurent boards can be battery powered.

The products on the website have been developed in-house. All products will be tested before shipping to our customers.